Whilst we are excited to get back to doing what we love, we wanted to let you know that in order to re-open under the context of Covid-19, we have made some changes to the way we operate with your health & safety as our top priority.
The first thing we have changed is our protocols & standards in hygiene. You will notice that as a result of this, your salon experience will be different from previous visits.
Please read carefully so that you're prepared for not only the changes we have made, but also the guidance we are asking our clients to adhere to, so as to avoid any disappointment on arrival or during your appointment.
We have staggered our working hours & have elongated our opening times. The idea behind this is so we can see as many of our clients as possible, whilst still maintaining the highest level of hygiene standards. Each service will have an additional 15mins added on to it to give us time to prepare the area for each new client.
As a close contact business we will continue to wear PPE to protect our clients. We kindly encourage our clients to wear masks to protect our staff, so we can continue to operate in a safe environment.
Masks should be worn at all times, we ask that if you have a mask then please wear it to your appointment. If there is no way of accessing your own mask, then we can supply you with one.
Upon arrival, we will be remotely checking your temperature. Our non-contact thermometers let us know if you have a raised temperature & if you do (above 37.8C) we will have to rearrange your appointment in the interests of a salon safe environment. Our team will also be temperature checked on arrival to work.
We will be monitoring how many people are waiting in reception at one time & may move you to a quieter part of the salon or ask you to wait in your car in order to follow social distancing guidelines. Please do your best not to arrive early or late for your appointment.
Before your appointment, your Stylist/Beautician will guide you to our hand washing area, while your phone is sterilised by our Front of House in one of our LED/UV sterilising machines. Theses machines are completely safe & cause no damage to your phone, in fact we were implementing these methods just before the lockdown & they were working well.
We will not be operating a cloakroom, so bring a light jacket &/or leave bulky coats & shopping bags in your car.
We won't be serving food or drinks & have removed any 'common touch' items such as magazines, but do feel free to bring a book or magazine for your personal use.
Please don't bring your own beverages as taking your mask on & off is discouraged for team safety.
You are asked to refrain from touching products in our retail area, if you would like to buy a product please ask a member of our team. Whilst this area will be cleaned regularly, it is still advisable in order to limit the risk of infection.
All clients will be required to complete a COVID Consent Form as part of the Government Track & Trace initiative & to agree to abide by the COVID-19 code of conduct at Aesthetics.
We will be keeping clients at a safe distance throughout their appointments by leaving a seat free between each styling station. Having two salons, plus a courtyard garden at Henley & an upstairs area at Solihull make this easier for us to ensure & to maintain good airflow.
All clients will have single use items used on them e.g. towels & capes. Gowns will all have been deep cleaned before every client & only used once.
All equipment used during your appointment (e.g. scissors, combs, brushes etc.) will have been sterilised before your service.
All nail bars have perspex screens & any beauty services that require the client to remove their mask will be carried out in a private room & the Beautician will be wearing a KN95 mask & visor.
All equipment used in any beauty service will have been sterilised or used only once. Our usual standards of never double dipping during waxing will, of course, still apply & any nail gel/polish will be decanted to avoid cross contamination by brush application.
All areas of the salon & beauty rooms will have been cleaned before you arrive for your appointment – we are allowing additional time between appointments to ensure that each area of the salon is cleaned before our next
client arrives.
Due to the necessary precautions that we now have to take, we have fewer appointments available. We would strongly advise booking your next appointment before you leave as availability is limited.
To minimise time spent in reception we suggest pre-paying for your appointment or via contactless.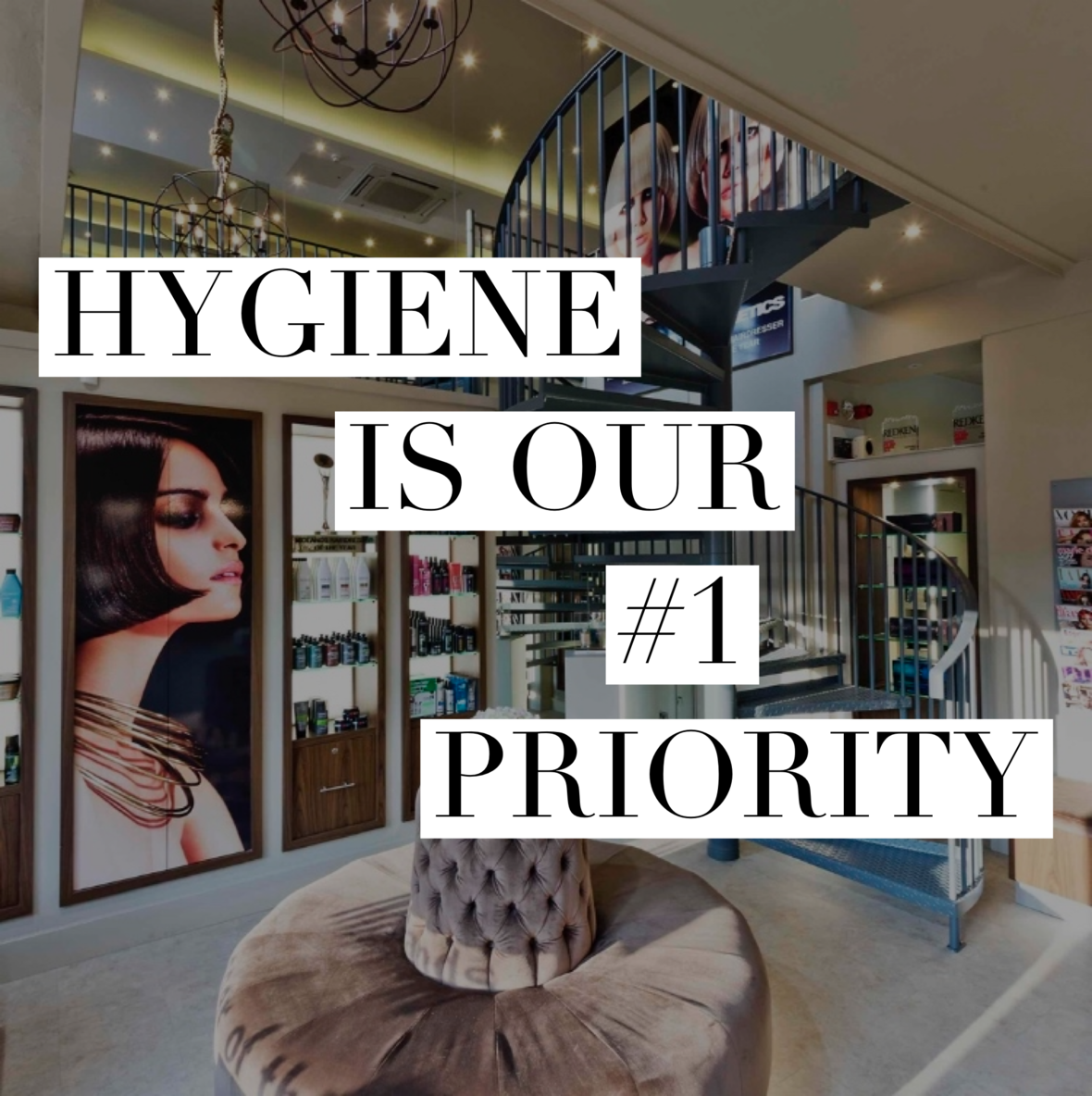 We do ask that you come to appointments alone, without the company of a family member or children, to limit crowding within the salon. If your child is booked in for a cut & is too young to attend their appointment alone then you can absolutely accompany them, just let us know in advance so we can make sure this will be at a quieter time of day.
Please be very honest with us if you feel unwell or if you've been in contact with anyone who's been unwell with any similar symptoms to COVID-19. If this is the case please do not visit the salon & inform us as soon as possible.
Above all, we wish to create a safe environment for our clients to be able to use & enjoy. We assure you that coming to Aesthetics will be much safer than inviting a non-family member into your home as we are taking every precaution to protect our team & clients from infection.
If you have any queries about our Covid-19 measures, then feel free to contact us at info@aesthetics-hair.co.uk & we'll be happy to reassure you.
The changes you will encounter have not been taken lightly & are following government's guidelines to ensure all health & safety standards are not just met but surpassed.
Thank You for waiting for us & we can't wait to see you soon.