In our relaxing treatment rooms our experienced therapists provide a full range of body treatments to relax, rejuvenate and de-stress your body and your mind.
Hot Stone Ritual - 60 min
£67 / £77
Divine heated stones relax away muscle tension and strains. This all encompassing treatment commences with a full body brushing and exfoliation, followed by a deep body face and scalp massage using essential oils chosen to suit the individual. Deliciously warm basalt stones melt away tension, ease muscle stiffness and increases circulation and metabolism to deliver a unique therapy through a carefully delivered massage technique. It is a totally amazing experience.
Aromatherapy Body Massage - 60 min
£62 / £77
Heavenly full body Aromatherapy treatments. Everyday stresses and strains simply disappear with our heavenly Aromatherapy Massage to either relax, detoxify, tone or stimulate. The incredibly soothing sensation of the Warm Aromatherapy Balms, expertly blended from an exquisite elixir of natural essential oils, melt away tension and ease stress for renewed energy and velvety skin.
Aromatherapy Body Massage - 90 min
£92 / £112
Our relaxing Aromatherapy treatment for an indulgent 90 minutes.
Manual Lymphatic Massage - 45 min
£47 / £62
A specialised massage technique which uses slow, rhythmical circular and pumping movements to gently move the skin over the underlying tissues. The muscles of the lymphatic system are stimulated which aids the removal of waste and excess fluid from tissues This extremely relaxing holistic treatment helps a variety of issues relating to the immune system, from cellulite to chronic pain.
Red Island Exfoliator - 60 min
£77
Massage and exfoliation combined in an exotic body treatment. Inspired by the magical island of Madagascar, powdered fruit seeds and spices are used to polish skin leaving it exceptionally soft. Includes massage with warm aromatherapy oils to de-stress and re- energise.
Bamboo Massage - 1hr
£67
Originating in Asia, this holistic treatment uses a range of bamboo canes that are pre-warmed to target your muscles with a deep tissue massage. It will leaves you feeling relaxed & energised, with a sense that your muscles have been stretched, warmed & elongated. This treatment helps alleviate muscle tension, aches & pains, improves joint function, increases circulation & helps to enhance quality of sleep.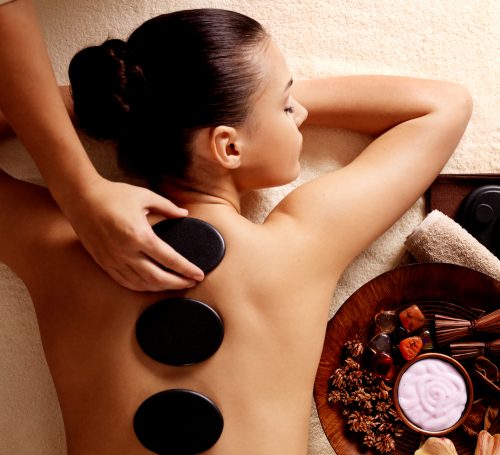 Dry Brush Massage - 1hr
£67
Dry brushing removes dead skin cells & unclogs pores, leaving skin feeling softer & smoother. The physical action of brushing up the body & towards the heart following the natural path of & stimulates your lymphatic system to help boost circulation. This is the perfect treatment to help scrub off old fake tan & after your massage your moisturiser will work better because you will have brushed away the outermost dead skin cells.
Deep Tissue Massage - 60 min
£62 / £77
Banishes tight muscles with deeply therapeutic massage techniques. Powerful, deep and strongly rhythmic movements make this customised massage pure therapy for body and soul. Created to alleviate stress deep down and release the discomfort of aching muscles (whether through fatigue or stress), 100% natural, Decleor Essential Oil Balms actively work with your body to release localised areas of intense tension. Leaves your mind feeling less cluttered and muscles intensely relaxed.
Deep Tissue Massage - 30 min
£32 / £47
Fitting your treatment into a busy day or just want to focus on a particular area of your body like upper shoulders or lower back? Why not go for the 30 minute version of our popular Deep Tissue Massage for a short, but indulgent, treatment.